My Take on St. John
When I first visited St. John in 1965, it was beautiful. The coral and the many beautiful fish on the reefs were stunning. I have watched a steady decline in the place ever since then. The huge numbers of roads, homes, and other structures that have been built have not only changed the look of St. John but the runoff from poorly built roads that continually wash out, a total lack of sewasge treatment on most of the island and in the ever increasing number of boats in the bays and surrounding waters that just dump their raw sewage overboard, have destroyed a lot of the marine environment that I saw years ago. Believe me you don't want to swim in Coral Bay.
This destruction has not all been due to uncontrolled building outside the National Park. The Park Service has done their share of sending silt into the bays. At Lameshur Bay the old Danish road (now called the Bordeaux Mountain Trail) that goes up toward Centerline Road was partly bulldozed so that the ranger living at the historic plantation house could drive his vehicle home.
The road goes straight down the hill and every time it rains, the dirt goes straight into Lameshur Bay.
The Park service has "improved" the Lameshur Bay road so that visitors and the ranger can get to Lameshur Bay. The original road was really not suitable for cars but now visitors can get through most of the time. 4 wheel drive is appropriate but you will see all types out here. Hey, who cares, it is a rental car.
Again, the work done on the road leaves much to be desired and the silt goes to the bays whenever it rains. Once you make it over the ridge, you encounter the POTHOLES. Attached is a photo of the beginning of this section of the road taken in December of 2013. Some of these mini lakes are deep. Hikers can't hike around many of them due to the surrounding vegetation. You do not want to walk through these holes bare foot.
On December 19, 2014, Gerald Singer of St. John posted the following on seestjohn.com in a description of the Yawzi Point Trail and the road you take to get there.
"The road out to Lameshur Bay and the Yawzi Point Trail is presently in terrible condition. Poor drainage and poor water management has created deep pools of water that cover the entire roadway. So unless you're a mosquito looking to lay eggs or brave of heart with a proper vehicle, I would advise waiting until we have some consistent dry weather before attempting this drive."
I guess things have not improved out there.
There is some more information on the silt and sediment runoff HERE.
Be sure to view the photos on the last page.
Feral and non native animals such as cats, pigs, donkeys, mongoose, goats, etc. cause a lot of damage in the park by stripping areas of vegetation and killing off native species. Periodically, the NPS gets funding to remove some of these animals from the park. If you wander off the trail a bit you will find pig traps that are not set or maintained. I stumbled on a bunch of traps for catching mongoose that had been tossed over a wall when the people in charge of the program didn't want to come back any more.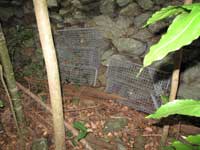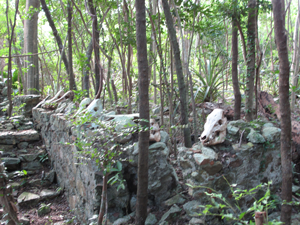 Evidently, the Park Service has done some recent work on getting rid of the feral hogs in the area around Beverhoutsberg. You can see that they have had some success and have posted a "score card" to drive other hogs away.
Again, I have to admit that it is probably impossible to keep feral animals out of VINP due to the surrounding farm operations and inholdings. It is however disappointing to see that efforts to control the problem are so sporadic.
About the hiking trails and maintenance (or the lack thereof): In the years I have been going to St. John, the NPS has done very little trail maintenance, in fact it seems that the NPS expends more time, effort, and money preventing people from maintaining the trails than is spent doing the work. From time to time, a crew will be hired to clear one of the main trails. The reaction in the past to a trail getting totally overgrown has, in many cases, been to remove it from the map given out at the NPS Visitor's Center. There have been groups of volunteers that have done a lot of work but there seems to be no person or department in the VINP that maintains trails and many get neglected to the point that they are impassable. As of December 2013, The Friends of the Virgin Islands National Park have a good person in charge of coordinating volunteer trail maintenance and he has been doing good work. The sad part is that the NPS droids still dictate which trails are to be maintained and which ones are to be allowed to disappear. Sadly some of the nicest trails on the island are in bad shape. In December of 2013, I found the Tektite Trail, The spur trail out to Cabritte Horn Point, the Lameshur Bay Shoreline trail and the Europa Point trail all to be overgrown and totally neglected. At least we have GPS tracks for most of the trails and they could be reopened if anyone cared. If you find the trails to be overgrown, write a letter to the Superintendent of the VINP, 1300 Cruz Bay Creek, Cruz Bay, St. John, VI 00830. A copy to your representatives in Washington always helps.
A few years ago, I hiked up the Susanaberg Road and was surprised to see that work was being done to fix it up. This is an official Virgin Islands public road and also known as Route 204. When I hiked up again in 2013, the road had been blocked by a new cottage that was built directly across the road.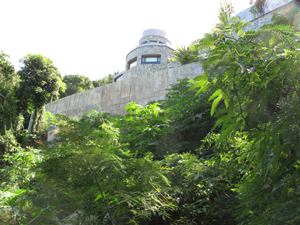 It seems that in addition to the public road being blocked, the builders had cleared a bunch of the NPS land to "Improve their view". The house still stands and the road is closed. I guess money really does rule.
There are a number of entitled people that grew up on St. John who do not like outsiders hiking around on "Their Island". They don't want a map showing how to get places and will do their best to prevent old trails and roads from being cleaned up.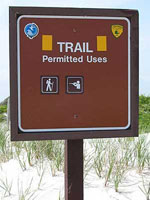 Probably the most outspoken of the lot is Eleanor Gibney. I recall one of her outbursts where she proclaimed "There are places where people shouldn't go!" I realize she grew up here when there were few people and it was a much more beautiful place. It must have been a wonderful experience. Another conspirator in the efforts of the rich and connected is Rafe Boulon, a neighbor of the above mentioned Gibney. He worked for the NPS for many years and even though he has retired, he still has a lot of influence. They don't seem to understand that Virgin Islands National Park belongs to the people of the United States and not a few of the current crop of "Original Inhabitants" of St. John. The VINP is supposed to be maintained and preserved for all of our present and future generation's enjoyment. Go explore YOUR PARK.
In the section of this web site titled "St. John, Then and Now" there are a few photos of some of the historic buildings in the park. When you hike around the Park, if you compare what the buildings were like when the NPS got them with what is left today you will get the idea. I would describe what has happened as "criminal neglect".
St. John runs on Island Time. On your first visit to St. John you will be frustrated by the general level of service almost everywhere. One of the restaurant/bars that I like has a motto posted that reads "SAME DAY SERVICE". Their service is just fine, "It's a pretty OK place". Nothing on St. John happens in a hurry and when people with the Island Time attitude get government jobs, the syndrome gets magnified.
Go to the Cruz Bay Post Office and try to get the clerk to do something and you will get the idea. I tried to pick up a package that was waiting for me there. After a half hour of standing in line, the clerk told me it was out in the trailer and gave me a slip to allow me to pick it up.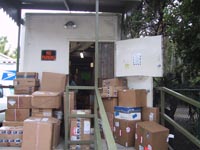 If you zoom in a little you will see a yellow note on the door that says "Be Back Soon" and note that the keys are hanging in the lock. Be thankful that the postal security precautions will prevent your packages from ending up in the wrong hands. The postal storage trailer is on a busy street with no fence to prevent people from taking anything they want as they pass by. After I waited for the "soon" time to go by, the clerk took my slip and wanted to know "What does the package look like?" it seems that if you don't know what your package looks like the chances of finding it are slim to none. Luckily for me, I had mailed the package to myself and knew what it looked like.
There seems to be little oversight of who is doing what if anything at all in the VINP. There are some good people at VINP but there is a lot of dead wood that does very little except collect a paycheck. There is a lot of theft of tools, equipment and fuel from the maintenance area. Most of the people who have been there for a while like it the way it is. I have seen new rangers come to St. John but the good ones usually leave in frustration after a year or less. Historically, the superintendent position has been a retirement post and lasts for a few years. These people usually just don't want to take on the probably hopeless battle to shape the place up. It isn't a bad place to finish up your career with the NPS and if you "Don't Worry Mon" it should be smooth sailing.
A few years ago Mark Hardgrove took over the superintendent job. I met him a week or so after he arrived and he said "VINP has a 20 year backlog of maintenance and I am going to fix it". I have to give him credit as he did a lot of good work. Sadly, he has now retired but the park is a better place than when he came. In March, 2013 Brion Fitzgerald took over as superintendent. I met with him in December of 2013 and he stated "The VINP has not done any trail maintenance for years and has no plans to do any in the foreseeable future. All trail maintenance is done by volunteers." If you are interested, his first public speech can be read here.
The standard and regularly repeated excuse for poor conditions at the VINP is lack of funding. You have to wonder "what are they doing with the millions of dollars that we pay them to take care of the VINP?" Recently Lion Fish have turned up in the Caribbean and they seem to be considered a danger to the area. At this point, the beautiful Lion Fish seems to be well established and there are millions of them to be found from Florida southward. The following is a short clip from a National Park Service news release:
VIRGIN ISLANDS NATIONAL PARK Invasive Indo-Pacific Lionfish Found In Park
Maho Bay Watersports Center divers reported sighting an exotic invasive Indo-Pacific lionfish (Pterois volitans) in park waters in Leinster Bay near Waterlemon Cay last Monday. The next day, park dive team members Rafe Boulon (chief of resource management), Thomas Kelly (biologist), Devon Tyson (biological technician) and David Horner (protection ranger) searched for and captured the eight-inch juvenile lionfish, found in 40 feet of water just east of the cay. It is the first lionfish caught in National Park Service Caribbean waters, the first caught off St. John, and the 19th caught in U.S. Virgin Island waters.
Hopefully the (protection ranger) was wearing his Kevlar body armor while he was protecting the other participants during the capture of this dreaded creature. One lionfish down, 100 million to go! Before the Lion Fish, there were many similar expeditions requiring boats, diving gear and paychecks dedicated to the "Study of Coral Bleaching", etc. Is this really why the VINP always needs more funding? If you want further information about the dreaded Lion Fish, a recent report is here.
In spite of all the things that could be better, St. John is still a beautiful place. You can come here and enjoy the beautiful beaches, the blue water and if you get off the road and walk a bit you will be away from the crowds and maybe find a bit of paradise.
Click on a picture to view better quality.
Last of all, after you have gotten used to St. John and its inhabitants you will probably agree that the attached bumper sticker, seen on a Jeep, is appropriate.